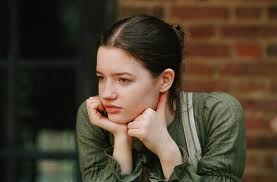 Mary is the middle or 3rd oldest of the 5 sisters in the Bennet family. She is between eighteen or nineteen years of age. She has a plain personality (at times abrupt), but she also has yearning to be a very accomplished woman as far as piano playing, singing, and reading are concern.
According to Jane Austen's relatives, she revealed to them that "She (Mary) obtained nothing higher in marriage than one of her uncle Philiphs clerks".
Bennet Family
Edit
Appearance
Edit
In the family Mary is considered to be the "simple one". She has pale skin and brown eyes and hair, usually bundled. She has a normal figure. In the novel she's not one of the prettiest. 
Ad blocker interference detected!
Wikia is a free-to-use site that makes money from advertising. We have a modified experience for viewers using ad blockers

Wikia is not accessible if you've made further modifications. Remove the custom ad blocker rule(s) and the page will load as expected.