Episode 80: Hyper-Mediation in New Media
Hyper-Mediation in New Media is the 80th episode of The Lizzie Bennet Diaries, and the fourth episode in the Pemberley Arc.
Lizzie complains about Bing Lee, and she needs someone to roleplay with, and so she wonder around the hall, searching for Gigi, until Darcy runs into her. Lizzie states that she wants to roleplay with Gigi, but Darcy says his sister is at tennis, and so he volunteers to help. Lizzie and Darcy then proceed to roleplay themselves, ending with Darcy telling Lizzie that she should ask Bing if he still cares for Jane.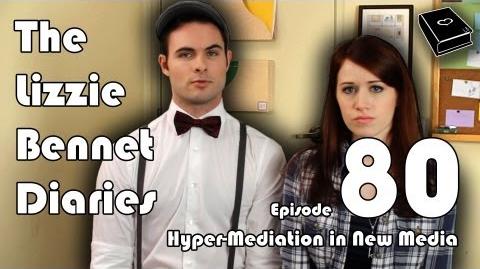 Ad blocker interference detected!
Wikia is a free-to-use site that makes money from advertising. We have a modified experience for viewers using ad blockers

Wikia is not accessible if you've made further modifications. Remove the custom ad blocker rule(s) and the page will load as expected.