Fitzwilliam Darcy
Talk

0
147pages on
this wiki
Fitzwilliam Darcy is a wealthy man of twenty-eight years old. He has one younger sister, Georgiana Darcy. He owns Pemberley and is best friends to Mr. Bingley, though Darcy is of a higher class than him. He is married to Elizabeth Bennet.
Mr. Darcy was first introduced when his friend, Mr. Bingley, was looking for a house in Netherfield. At a ball located there, Darcy openly insulted Elizabeth Bennet seeing her as only "tolerable, but not handsome enough to tempt him" and wished not to dance with her. Since then, the Bennets found him very disagreeable.
After he gets to know Elizabeth a little more, her cleverness and charming ways towards others are revealed to him, such as when she comes to her ill sister's aid. Though he tried to resist, he slowly came to admire Elizabeth and fall in love with her.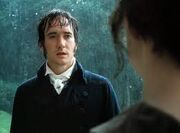 ==Characteristics==
Mr. Darcy was found at first to be very prideful, though later he admits that it was just because of his shyness. He is also said to have some prejudice, though he openly said that he tries not to. Darcy seems to try to do the best for his friends and himself. This is shown when he split up Mr. Bingley and Jane Bennet, thinking that Jane did not love Mr. Bingley. However, like the act previously mentioned, he failed to see the consequences. When he does realize the extent of consequences, he tries his hardest to fix everything