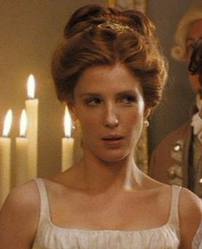 Caroline Bingley is the younger sister of Charles Bingley and Louisa Hurst. She is vain, antagonistic and oftentimes snobbish. She disapproves of her brother's admiration towards the compassionate Jane Bennet because of her connections. She also seems to hold a grudge of jealousy against Elizabeth Bennet throughout the story.
Personality
Edit
She is very craft, vain, antagonistic and snobby. Only wears designer clothing, only talks to people with connections in high places, and is friendly and smiling to people to their face, only to talk smack about them behind their backs. Has a (implied) crush on Darcy, and gets jealous if any girl comes and talks to him. Is envious of Eliza, because she attracts Darcy's attentions. Also wants her brother, Charles Bingley, to marry Darcy's little sister, Georgianna, just so she could have some more rich connections. It is implied that she helped separate Bingley and Jane (Mr. Bingley's love interest). We don't know what happens to her after the novel ends.
Ad blocker interference detected!
Wikia is a free-to-use site that makes money from advertising. We have a modified experience for viewers using ad blockers

Wikia is not accessible if you've made further modifications. Remove the custom ad blocker rule(s) and the page will load as expected.